| | |
| --- | --- |
| Making & Celebrating | |
Tuesday, December 07 2021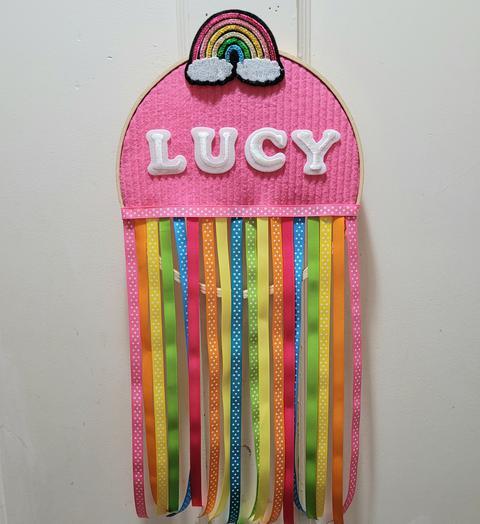 Making gifts for my grandlittle girls is the best. What better gift than a Rainbow Patch and Ribbon Hoop Door Hanger for a girl who loves rainbows! This fun, vibrant Solid and Polka Dot Collection of Ribbons from Gwen Studios is the perfect collection for the project! Available at Walmart. They also have cute patches, I decided it had to be the Rainbow for Lucy! (Sponsorship by Gwen Studios, project and opinions are my own.)
There are 24 spools in the Solid and Polka Dot Collection with 2 yards on each spool. This makes for a great selection in creating any kind of rainbow project. Grosgrain ribbon is my favorite, for its weight and quality. It hangs nicely. The unicorn or mermaid patch would have worked well too but it had to be a rainbow!
This project takes about an hour and requires very few supplies.
You will need:
8" Hoop
9" x 12" craft cut Kunin Corduroy or Classicfelt; choice of color (I used Candy Pink)
Fabric Adhesive
Measuring tape, scissors
STEP 1
Cut felt piece in half and insert into hoop. Pulling tight, screw in place. Trim off excess on back. Add glue to keep secure.
STEP 2
Cut 12" ribbon lengths. I decided to follow the colors in the rainbow patch alternating pin dot and solid. For an overall pleasing composition beginning with the pink and duplicating both sides, working towards the middle.
STEP 3
Keep adding ribbon lengths, gluing along the center side by side.
STEP 4
To cover the raw edges of the ribbon along the hoop, add a length of the pink ribbon extending around side to back edge. Adhere in place. Add the rainbow patch at top of hoop. I added some patch letters I had. You could die cut letters as well.
Such a quick and easy project, Rainbow Patch and Ribbon Hoop Door Hanger. Easy to personalize with the variety of colors in Gwen Studios Solid and Pindot Ribbon collection. Kunin felt comes in a wide variety of colors so this is a project for anyone little, tween or teen on your holiday or anytime gift list!
Thank you for visiting!
Lets connect on IG @debraquartermain

Very cute accessory for a girl's room!
Posted by
Terry Ricioli
on
12/07/2021 - 07:48 PM
very clever
Posted by
Janet Trieschman
on
12/07/2021 - 10:34 PM
Thank you Janet!
Posted by
Debra
on
12/07/2021 - 10:42 PM