| | |
| --- | --- |
| Making & Celebrating | |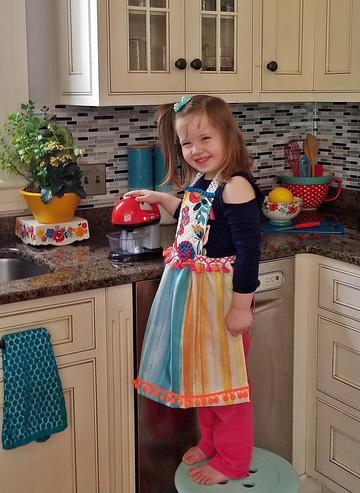 I have always loved aprons and have made many. There is something about wearing a pretty or sometimes saucy apron that just adds some attitude! This is Lucy in an apron I made for her and the attitude is all hers! Being Mimi to the grandlittles has taught me a lot! More than that, about life in general, about being more present, embracing magic, mayhem and messiness often all at the same time. This past year of being 65, I would say in my sixties I have felt a more youthful, lighter sense of spirit. Life is filled with much laughter and many hugs. I know I am very lucky and that attitude is for any and every age!
Baking requires cute aprons, mixers and lots of colorful sprinkles! On the practical side an apron does keep most of the clothing mess free. These matching aprons also a requirement by the girls were made from a tablecloth so very washer friendly. If you want to make an apron for a little. Here is the link to a full tutorial.
I grew up with a Mom who wore an apron and my grandmother did too. The history of the apron has been a practical one of keeping clothing clean. In the days when wardrobes were limited, a piece of fabric was much easier to wash. For hundreds of years aprons kept clothing clean for both men and women, tradesmen and maids. Certain periods in history it also denoted class with more elaborate aprons and during the Puritan Era, long white aprons from neck to floor were worn by women and girls.
These days with the interest in cooking for pleasure, the era of Instagram and foodies, aprons are both practical and stylish. Here are some of my favorite apron designs, all with an ATTITUDE of fun, fashion and flare! (and yes a lot of pink)

This apron includes some of my grandmother's recipes transferred on to fabric. Wearing it reminds me of her and seeing her in the kitchen next to the old wood stove that always had something simmering.
This apron I upcycled from a sundress making ruffled flowers from the fabric. Definitely a summer party apron!
Oh and then there were these Shirt Tale Aprons I designed, modelled here by two lovely WBN members. Upcycled from mens shirts each one had a special story in the pocket about where the shirt came from, slightly saucy and a little spicy. My favorites. Ah might be time to bring back that Apron with serious ATTITUDE!
Aprons and Attitude wear them both with great style and flare!